Our Taboo Project Networking Events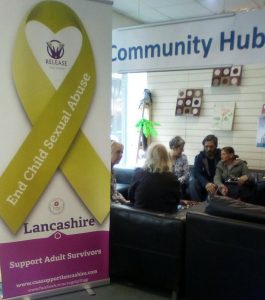 Speaking out in a non-confrontational manner about Child Sexual Abuse doesn't need to be difficult. Come meet our Peer Power Team.
Saturday 8 October World Mental Health Day event on the Flag Market Preston Angel Gifts

 

Make & Take

craft session
Tuesday 12 October LUF (Lancashire User Forum) & Red Rose Recovery networking event  Landmark, St Mary's Street North, Preston, PR1 5LG
Saturday 29 October Progress Housing Leyland, Craft & Culture networking/community engagement session. St Mary's Church, Broadfield Drive, Leyland PR25 1PD.   Join us for an Angel Gifts Make & Take

craft session an informal way

 of speaking  about CSA.
7-11 November Sexual Violence Awareness week various events to be planned any ideas? Contact us if you would like to invite us to bring an Angel Gifts craft & chat  session to your service.
Wednesday 16 November our team will be speaking at UCLan to Health & Social Care students, we believe in the importance of providing opportunities for a Shared Learning approach victim/survivors and supporters stronger together.
Saturday 13 November Suicide Awareness day Lancashire County Council  are hosting an event on Preston Flag market.